Dec 19, 2019 in Releases
‧
2 min read
Metabase 0.34 - Ho Ho Holiday edition
The Metabase Team
‧ Dec 19, 2019 in
‧ 2 min read
We decided to sneak in a stocking stuffer here towards the end of the year. As always you can read the upgrade guide if you're ready to get going, but for a bit more on the changes this time around read on below.
Showing values on data points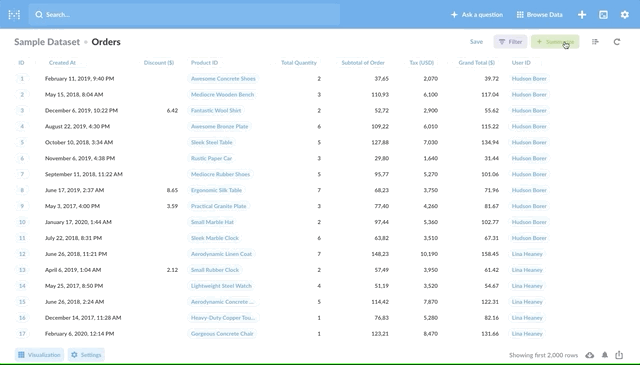 Now when you're looking at a bar chart we'll automatically show you the values above the points to give you a quicker read of what's going on. You can also turn this new setting on for single series line charts. When the setting is on Metabase will fit as many labels as it can, or you can take things into your own hands and make it show values for every point if you wish. As this was one of our most upvoted issues, we're sure this will make a few of you happy.
Mongo variables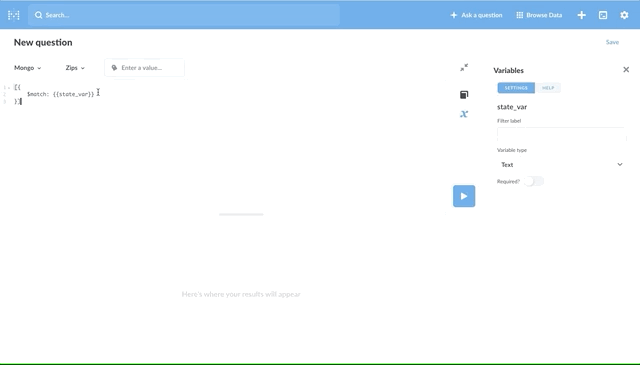 We've added support for native query variables in MongoDB! Now you can set up custom widgets and filter to your heart's content. Read more about it in the docs.
Timezone fixes
We rolled up our sleeves and reworked how Metabase handles timezones throughout the product, and in the process we managed to close out a lot of related issues. We hope you'll find Metabase is now more reliable when it comes to displaying dates and time in your results.
SQL editor updates
We spent some time improving the quality of life for those of you who frequently use the SQL editor. Highlights include preventing the results of your query from fading out when editing the query, and making it easier to resize the editor. We've also given the variables panel a new coat of paint.
Community highlights
Here are a few community contributions we wanted to highlight this time around:
Dashboard cards now scroll the browser window when dragging to move them (thanks @maxzheng!)
Updated and optimized world and US states map files (thanks @flamber!)
And as always we'd like to give a big "thank you" to our translation community for working to make Metabase available in different languages.
Bug fixes and miscellany
We took care of a bunch of bugs in this release, so be sure to check out the full list of fixes and other items.
We hope you enjoy, and we'll see you again in the new year — we have some big things planned for 2020.
Thanks and happy holidays, The Metabase team
Share this release
Get started with Metabase
Free, no-commitment trial
Easy for everyone—no SQL required
Up and running in 5 minutes