Aug 07, 2018 in Releases
‧
5 min read
Metabase 0.30 - Room to grow
The Metabase Team
‧ Aug 07, 2018 in release
‧ 5 min read
When we first hit the "Open Source" button on Metabase nearly two and a half years ago, few of us on the team could have imagined exactly where this project would go. We figured we'd get some traction with small startups or non-profits and try our best to be a small island of sanity in an increasingly large and confusing data ocean. Few of us would have imagined thousands of innovative companies large and small deploying us inside of their businesses.
It's no secret that Metabase still feels like it was designed for those smaller horizons, because it was. We originally made Metabase for teams like ours, small and scrappy and without a lot of worry about data permissions. As we've talked with teams about how they've adopted the platform we've known that we'd eventually have to grow up a bit (don't worry, not too much), and with Metabase 0.30 we're reorganizing how Metabase works to make it even better for teams of any size.
Collections
One of our more frequent requests has been to let you organize dashboards in Collections. In 0.30 we're making Collections first-class citizens in Metabase. Now you can organize dashboards, questions, pulses, and soon metrics and segments to make it easier for people in your org to find the data they need. You can nest collections and set things up to match how you work with data internally.
(Note: if you're upgrading to 0.30 from a previous version of Metabase, your dashboards, pulses, and some of your questions will be moved to a new location. Learn more here.)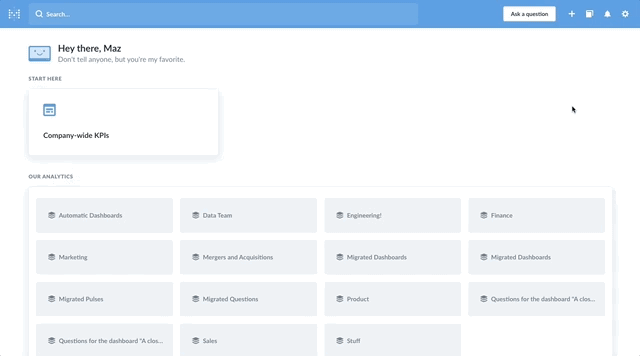 Pinning
It can be a bit hard to know what matters when you're given a bunch of data to look at. To help guide people in the right direction items in collections can be pinned to the top of the page to highlight what's important. In order to make it even easier for anyone to get to the important stuff fast, anything you pin in the base "Our analytics" collection shows up on the home page, too, so all it takes is a click after you log in to get to what matters.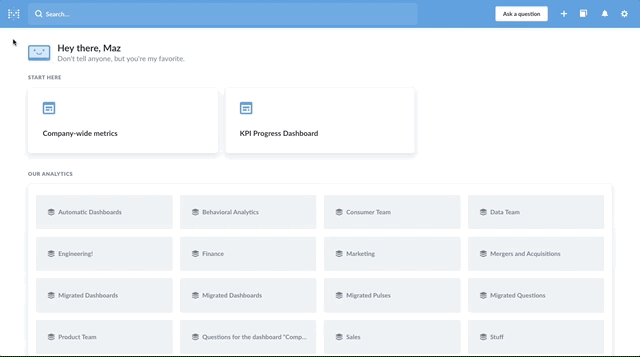 Permissions
Part and parcel of working with data is making sure the right people can access your dashboards and questions, and the wrong people can't. You can now more easily control which dashboards and pulses your users can see by putting them into a collection or sub-collection and setting group permissions accordingly.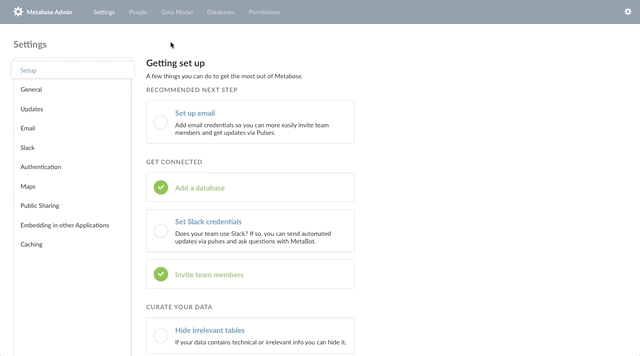 Personal collections
Every user in Metabase is now getting their own collection (cue Oprah) so they can save questions and create dashboards that might be specific to their own needs. This should make it easier to keep shared spaces tidy and our hope is it'll give people more confidence to explore on their own.
App-wide search
Need to find those marketing numbers for Q3 of last year that you tucked away inside of one of those new collections? Search has come to the nav bar so you can find exactly what you're looking for no matter where you are. You can also filter by item type in collections and in search results.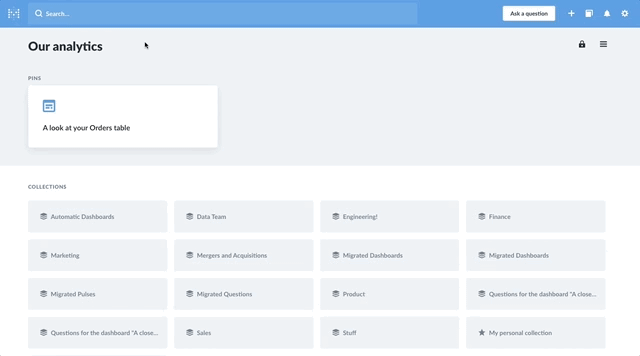 Data browsing
One of our core beliefs is that if you bring data closer to people good things happen. You can now browse your data directly from the home page so folks can easily get to the raw data they need to get work done.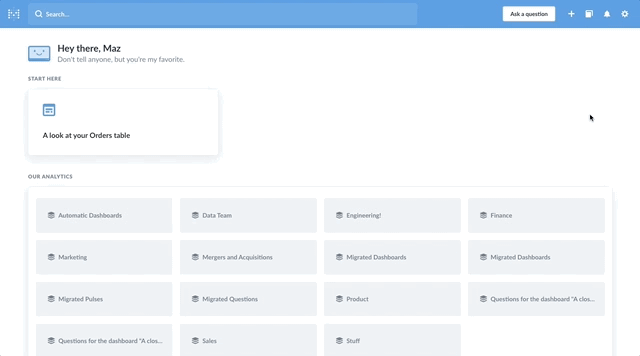 Comparisons
Curious how Widgets are performing against Gizmos? Well you work at GizWidget Inc, so of course you are. Clicking on any bar or point in a line chart will now offer you the option to look at a comparison of that data versus all the rest. If you're viewing a segment x-ray, you'll also now see the option to compare that segment to another segment, or to the whole table.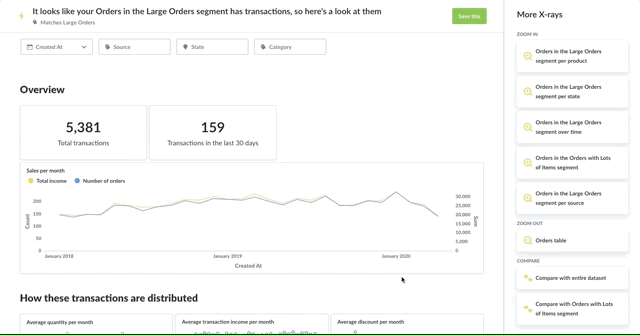 Conditional formatting
Table nerds, rejoice! You can now add conditional formatting to your tables to highlight the positive or negative aspects of the data. The settings you choose will even show up in pulses.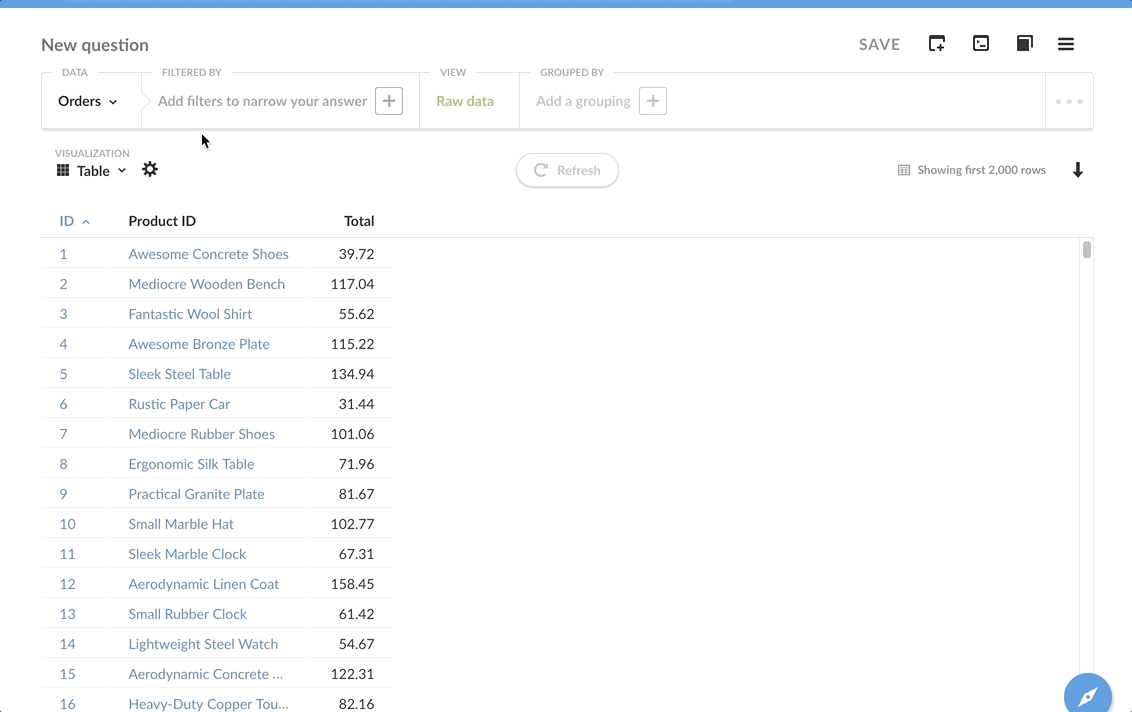 Add related columns in tables
Even more table love: you can now add columns from related tables in your table visualizations, and reorder them as you please.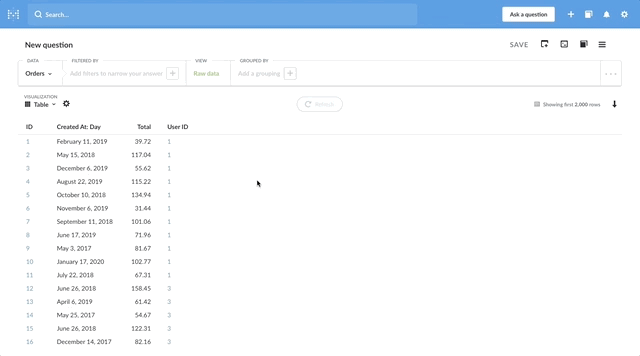 Metabase in Spanish!
We're also very excited to be releasing the first translation of Metabase in Spanish! A huge thank you to our GitHub friend, Joe Bordes, whose hard work made this possible. We'll be talking about this more in another post shortly. Stay tuned.
If you're interested in helping translate Metabase into your language, we've made it much easier for you to do that. All you have to do is join our translation project on POEditor to get started — there's no longer any big technical skills required.
Additional fixes
More than 50 other fixes and improvements were crammed into this jam-packed release. Check out the full list of fixes.
How to get version 0.30
You can always download the latest version of Metabase at metabase.com/start.
If you're upgrading, this is a big release with a lot of changes, so please first check out this list of things to know before you upgrade to 0.30. To upgrade, see the instructions for your platform. As always, we strongly recommend backing up your application database before upgrading.
Tell us what you think!
Once you've had a chance to play around with all the cool new changes in 0.30, we'd love to hear what you think. Fill out this short survey to share your thoughts with us. Thanks!
Thanks as always for using Metabase, and we'll see you back here next time!
Share this release
Get started with Metabase
Free, no-commitment trial
Easy for everyone—no SQL required
Up and running in 5 minutes