Jul 28, 2016 in Releases
‧
2 min read
Metabase v0.19 is out
Sameer Al-Sakran
‧ Jul 28, 2016 in jekyll update
‧ 2 min read
"So quick bright things come to confusion." William Shakespeare, A Midsummer Night's Dream
It's mid-Summer where we are, and if you're dealing with analytics on a daily basis, confusion is probably the order of the day. In this release, we'll give you tools to at least corral the chaos somewhat.
New Data Model Reference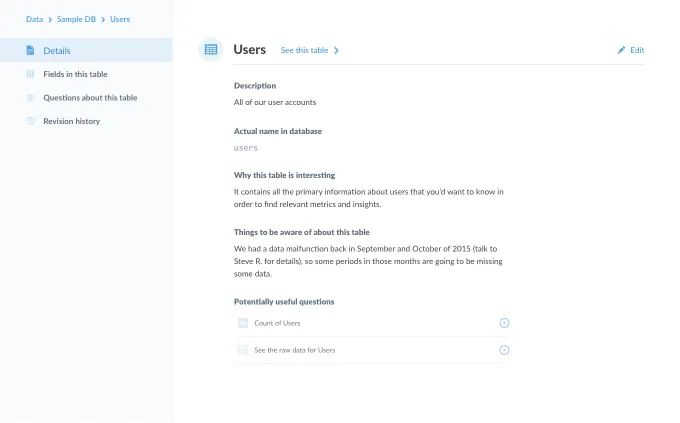 Don't you love getting asked why DAU's went down by 2% in October of last year? Don't you love getting asked again by the next person? Assuming you want the "fun" to end, document it in the data model reference, and point people there. The data reference provides an authoritative place for your users to look up definitions, changes to common questions and other pertinent information on their own.
SQL Templates

It's pretty awesome when you spend a couple hours putting together some fiendishly convoluted SQL query for someone and it actually works. It's even more awesome to allow it to take parameters so that your end users can re-run it with slight modifications on their own. Allow anyone to re-use complicated questions quickly and easily — templatize your stock SQL-based questions today! Learn how.
Single Sign-on via Google Authentication
Sometimes you want to lock down an instance and tightly control who has accounts. Most of the time you want to stand up an analytics and dashboard server, paste the URL into Slack and let your company figure things out themselves. With this release, you can do exactly that — with our new feature you can whitelist a Google authentication domain and let users sign up on their own. Back to the golf green for you! Learn more.
Chart any columns you like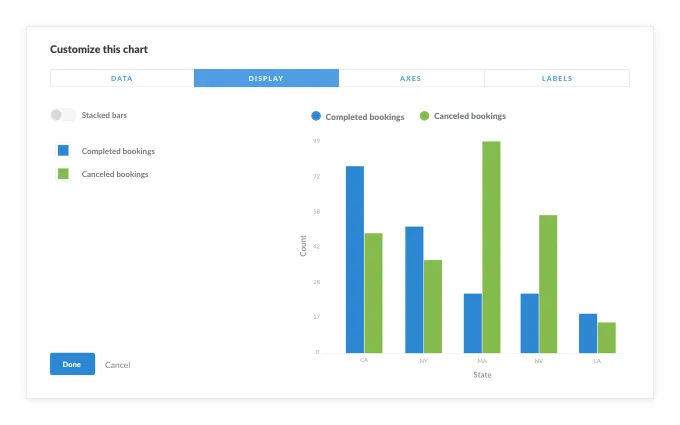 Metabase is awesome for quick and dirty charting, and we've tried to make it as fast and easy as possible to get charts of common queries. Sometimes, however, you want to dial things in. We now let you control axes, labels, and lots of other knobs. We don't expect you'll need them in 90% of cases, but when you're crafting your magnum opus and want things just right, they're there for you. More about chart options.
What else?
As always, this release includes lots of other small improvements and bug fixes. Check out our github issues to see the full list.
With love,
The Metabase Team
Share this release
Get started with Metabase
Free, no-commitment trial
Easy for everyone—no SQL required
Up and running in 5 minutes