Feb 17, 2021 in Releases
‧
3 min read
Metabase 0.38
The Metabase Team
‧ Feb 17, 2021 in News
‧ 3 min read
Metabase 0.38 brings two new visualization types to the table, allows you to subscribe to a dashboard via email or Slack, and revamps navigation for collections to make it easier to find and organize your questions and dashboards. You can head over to our upgrade page if you're ready, or read on to see what's new.
Pivot tables
At long last, Metabase now has honest-to-goodness pivot tables, with multiple levels of grouping and pivots, subtotals and grand totals, and collapsing and expanding rows. Tell your Finance team.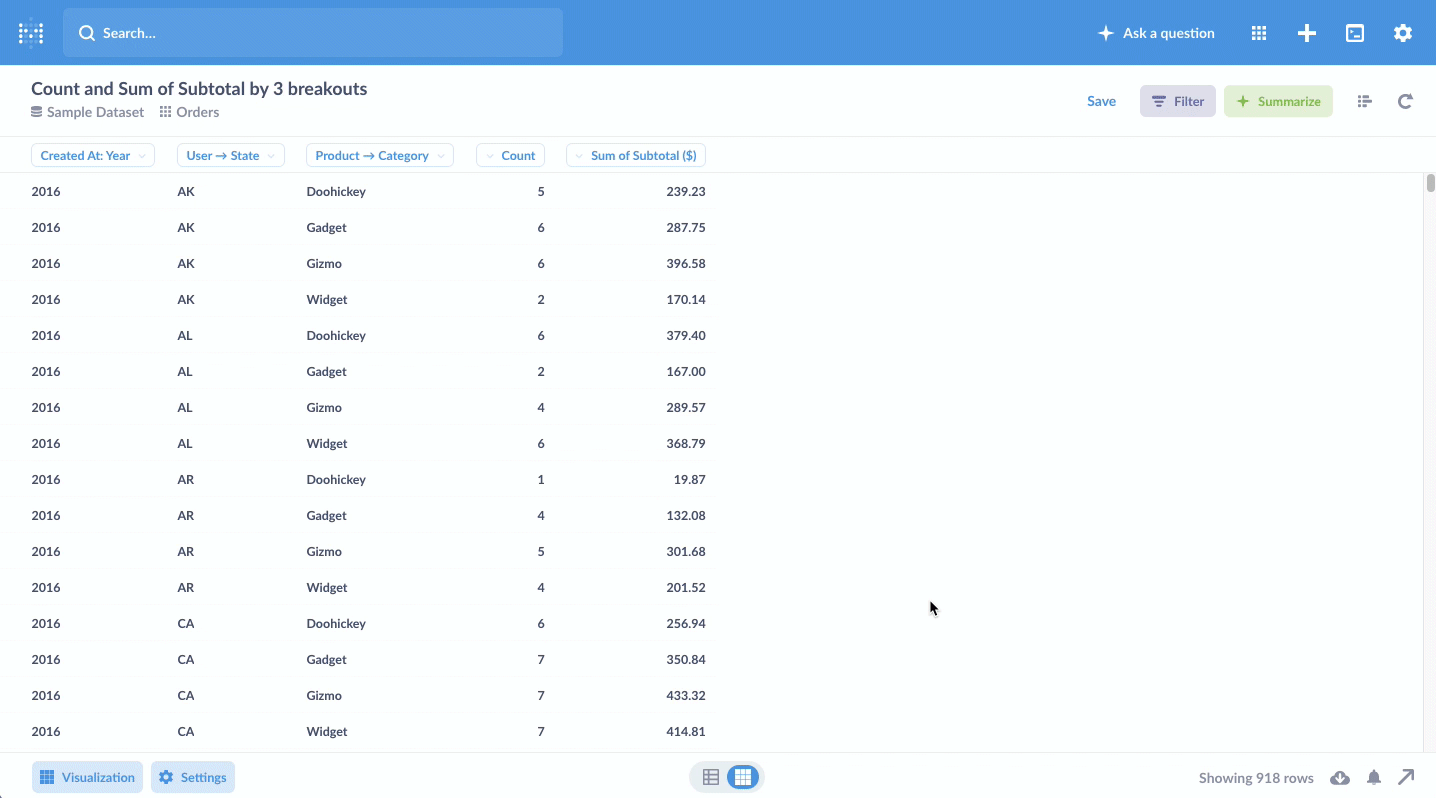 Waterfall charts
Waterfall charts are a new chart type in Metabase that can be quite useful when you're trying to show increases and decreases across a set of categories or a span of time. (Those folks in Finance are having a real banner day, aren't they?)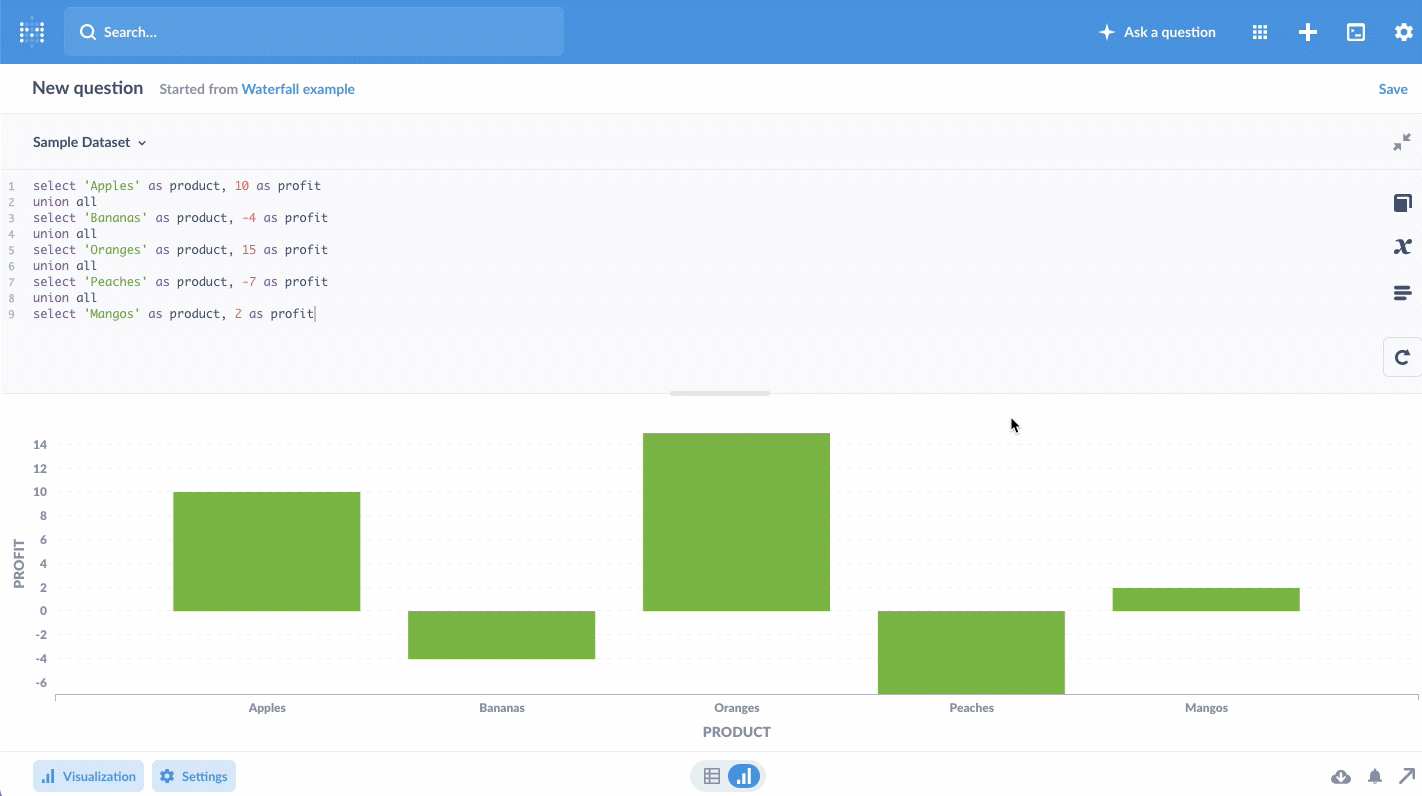 Dashboard subscriptions
In the past, if you worked hard to create a beautiful dashboard and then wanted to send that dashboard out to folks regularly, you'd also have to create a "Pulse" in Metabase and manually add each and every question from that dashboard to it.
With dashboard subscriptions, however, you can just send all the questions on any dashboard via email or Slack. You can set up as many subscriptions on a dashboard as you like, and any changes you make to your dashboard, like adding or removing a question, will be reflected in your subscriptions the next time they're delivered.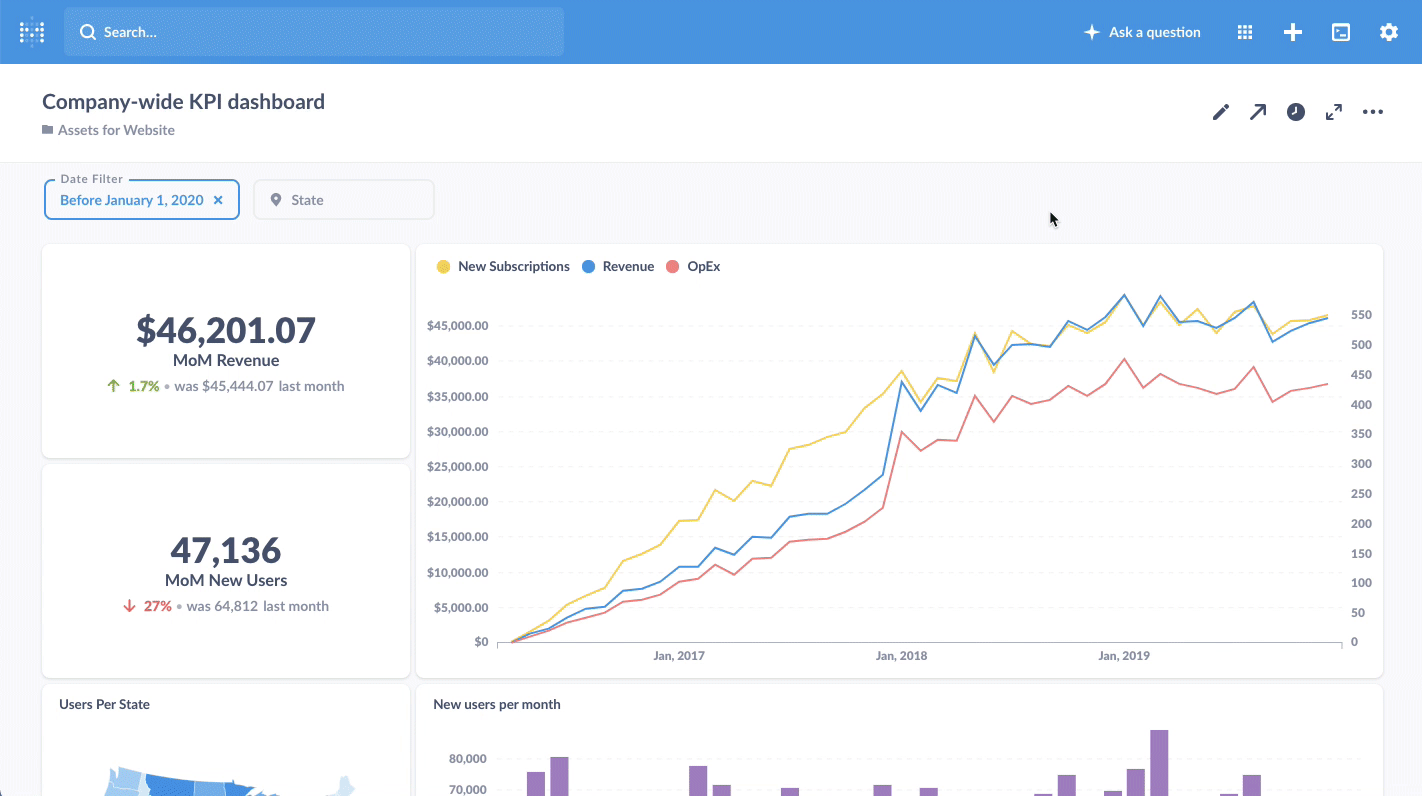 We've gotten great feedback on dashboard subscriptions, so we'll be gradually phasing out Pulses in favor of them. Pulses will continue to work as normal in 0.38; just know that we'll be removing them in a future release. When that happens, we plan on providing help in transitioning any remaining Pulses you might have to dashboard subscriptions, but we encourage you to start switching over now.
If you want to convert an existing Pulse to a dashboard subscription, all you need to do is create a dashboard with the same questions in it as the Pulse (you may already have a dashboard like that), set up a subscription to that dashboard with the same recipients and schedule, and then archive the old Pulse.
A new layout for collections
Browsing through what you've saved in Metabase should be easy and fast, so with that in mind, we've updated our collection pages with a new sidebar that lets you click through your folders with ease. While we were in there, we also added a fresh coat of paint to make things a bit lighter and brighter.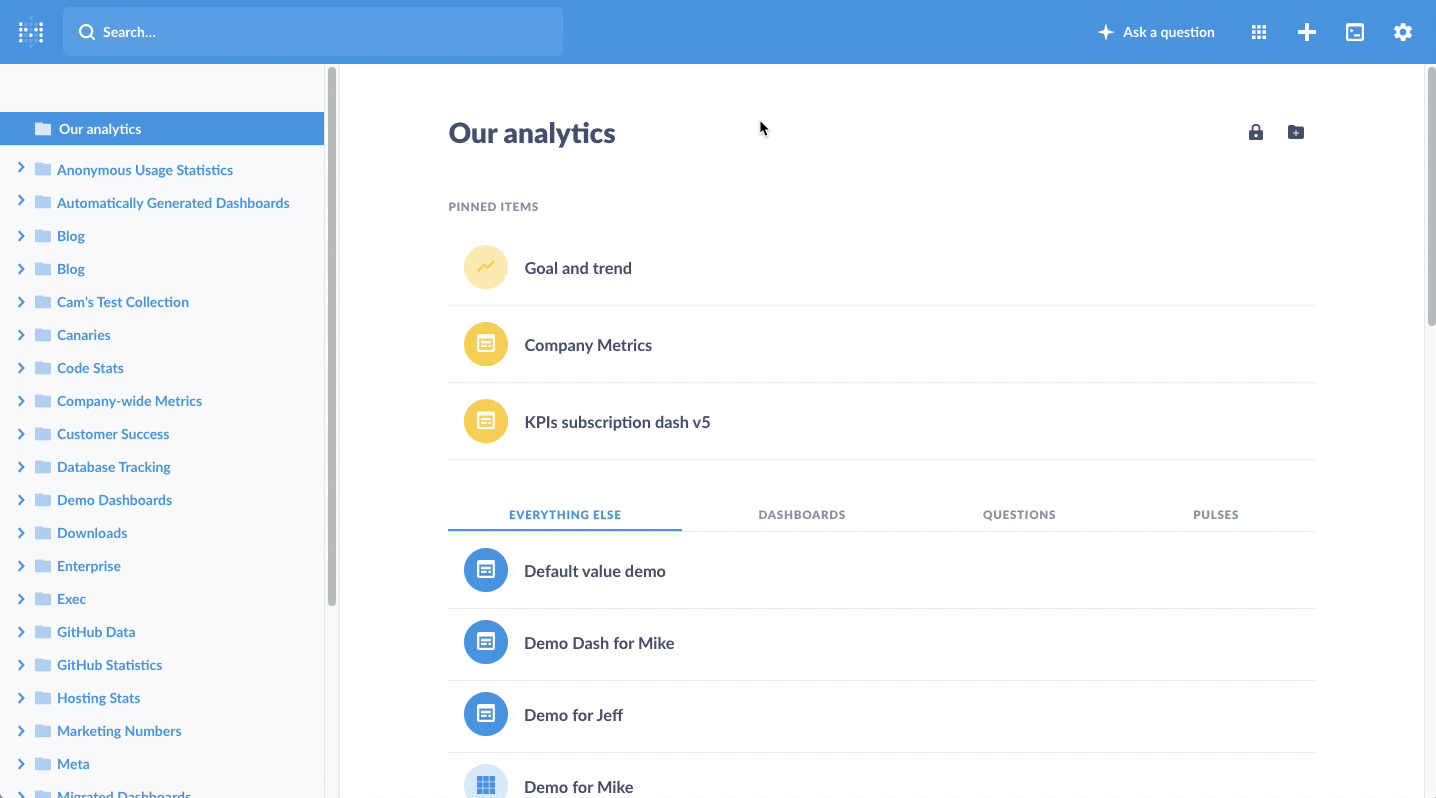 Redesigned actions and drill-through menus
For questions composed using our query builder, we've updated the action menus that give you options for drilling through the data. Same functionality, but now in a more approachable package.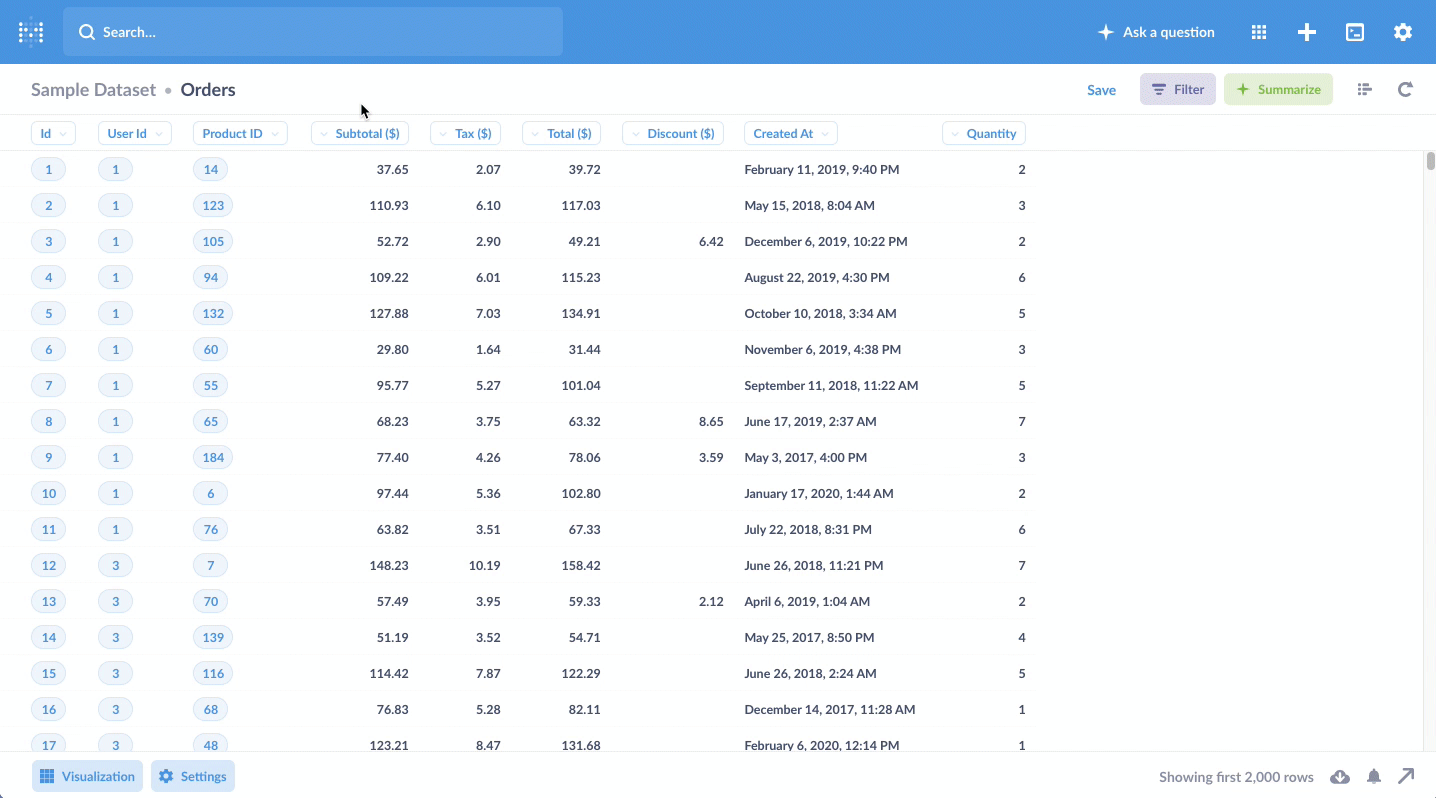 Improved nested queries and data sandboxes
We've hardened the code that powers these two features, improving stability and making sure that nested queries and sandboxed data let you use all the Metabase features and functionality they're meant to.
Give Metabase 0.38 a spin
You can see a list of all the features added (and bugs squashed) in the release notes.
Note: Upgrading instances that use a PostgreSQL SSL connection with custom CA certificates may require an extra step
If your Metabase:
is connected to a PostgreSQL database or uses PostgreSQL as its application database, and
uses SSL with custom CA certificates
You may need to resolve an issue with SSL certificate validation. You can find details on what to do here.
Get started with 0.38 right now
Not sure how to run Metabase? Check out our guide, How to run Metabase in production to find the approach that's right for you.
Thanks again to all of our open source contributors for filing issues, fixing bugs, and submitting pull requests. Metabase wouldn't be where it is today without your contributions.
Hope you enjoy the new release, and let us know what you think on our forum.
Cheers,
The Metabase Team
Share this release
Get started with Metabase
Free, no-commitment trial
Easy for everyone—no SQL required
Up and running in 5 minutes