Oct 06, 2021 in Releases
‧
6 min read
Metabase 0.41
The Metabase Team
‧ Oct 06, 2021 in News
‧ 6 min read
We're back with another big update to Metabase! If you're hosted on Metabase Cloud, we'll be rolling these new features automatically throughout this week. If you're self-hosting, you (or your administrator) can update to the latest version by following the instructions here. Tired of manual updates? It's easy to upgrade to a hosted plan.
Here's what's new:
Revamped Subscriptions and Alerts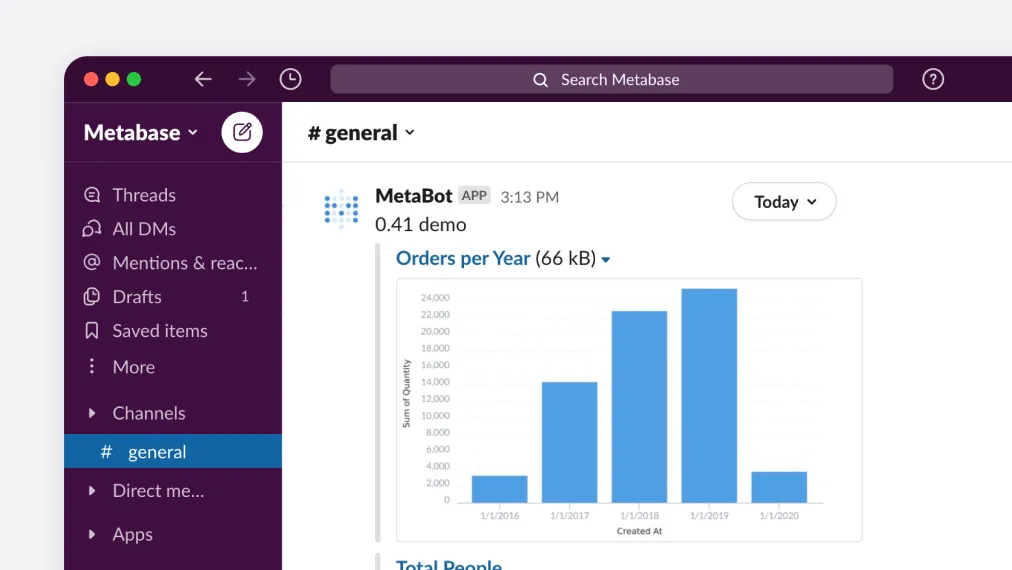 We've heard your asks, and it's finally here: completely redesigned Dashboard Subscriptions and Alerts. Now they look and feel more like their in-Metabase counterparts, but easy to view in email or Slack.
We're also giving everyone much more control over the Subscriptions and Alerts they receive, by letting you manage them from your account settings.
For Pro and Enterprise plans, Admins can now see all subscriptions and alerts set up in their instance. Plus, Admins in these plans can now restrict the domains to which Subscriptions and Alerts can be emailed.
Because Dashboard Subscriptions are that much better, we're going to remove Pulses in favor of Dashboard Subscriptions in the next release (0.42). Pulses will still work in this release (and they look so much nicer!), but 0.41 will be Pulses' final release.  Don't worry, when we release 0.42, we'll provide you with tools to help migrate your existing Pulses to dashboard subscriptions, so you won't miss a beat.
Fully redesigned permissions page (and a new permission level)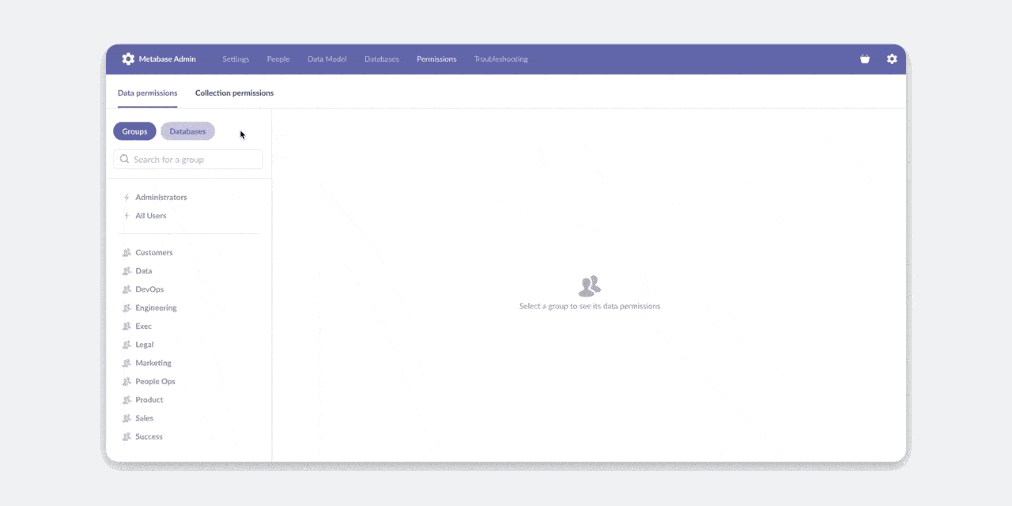 We've revamped the Permissions section of the Admin Panel to make it easy to manage permissions in Metabases with lots of people and groups.
Pro and Enterprise plans also now include a new Block Access permission, which ensures certain groups absolutely can not view content from specific databases, even if they have access to a collection with questions that use that database.
Stay organized at scale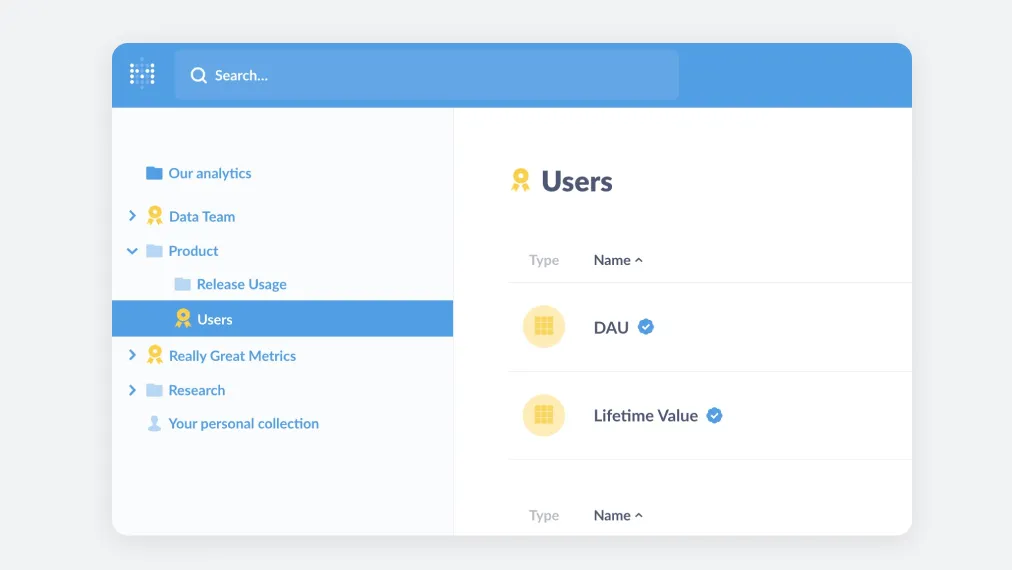 The flip-side of making it easy to ask questions is that your Metabase can fill up with a lot of questions. Pro and Enterprise plans now include tools to help large-scale organizations keep it all straight. To help you separate the data-team-blessed content from the ad hoc explorations from other folks, Admins can now mark collections as Official (they even get a ribbon!) and questions as Verified (they get a blue checkmark ✓).
Official and Verified items are clearly distinguishable throughout Metabase and get prioritized in search, so you can make sure people use the right dashboards and questions to make their decisions.
Fully-formatted result downloads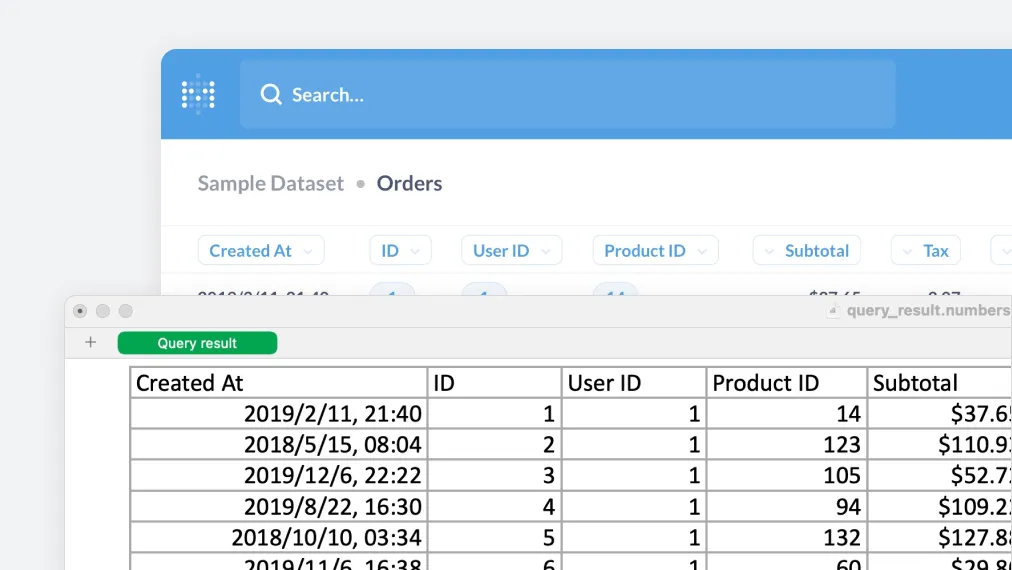 Now, when you download the results of a question as Excel, Metabase honors all of the formatting you've defined in the question. Things like date and currency formats are kept throughout, as well as column ordering and visibility. Columns will even automatically resize in XLSX! And renamed columns are now honored in CSV and JSON as well.
Since we were in that part of the code, we made sure filenames include a slug of the question title, so it's easier to distinguish between multiple, similar downloads.
A better experience for questions with errors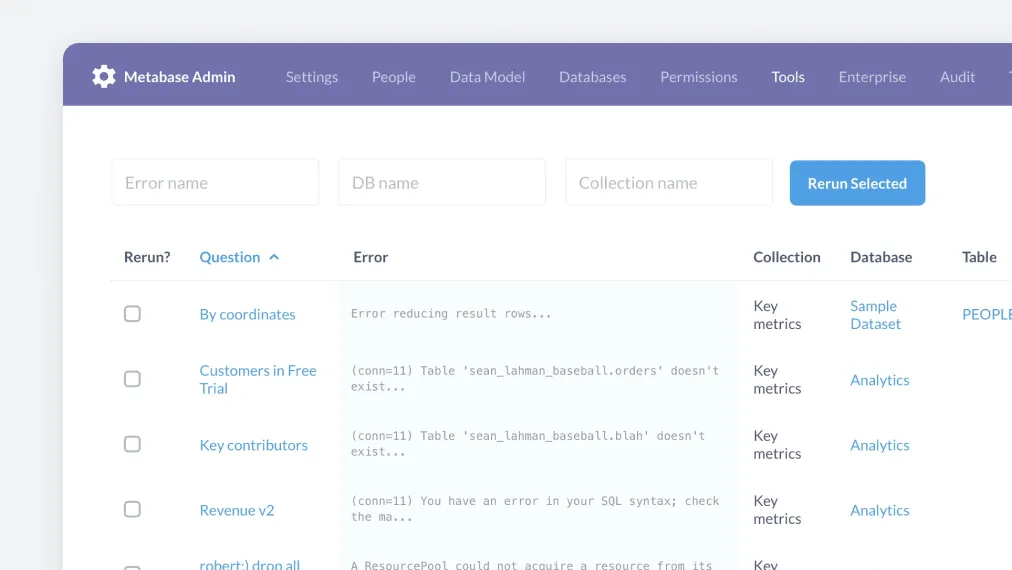 We've improved the way we display SQL errors in the queries for many databases, so you can more easily debug them.
In Pro and Enterprise plans, Admins can now go to one place ("Tools" in the Admin UI) to see all questions which returned as an error when last run, find the most viewed ones and go fix them. This is particularly useful after making schema changes.
Find slow queries and optimize them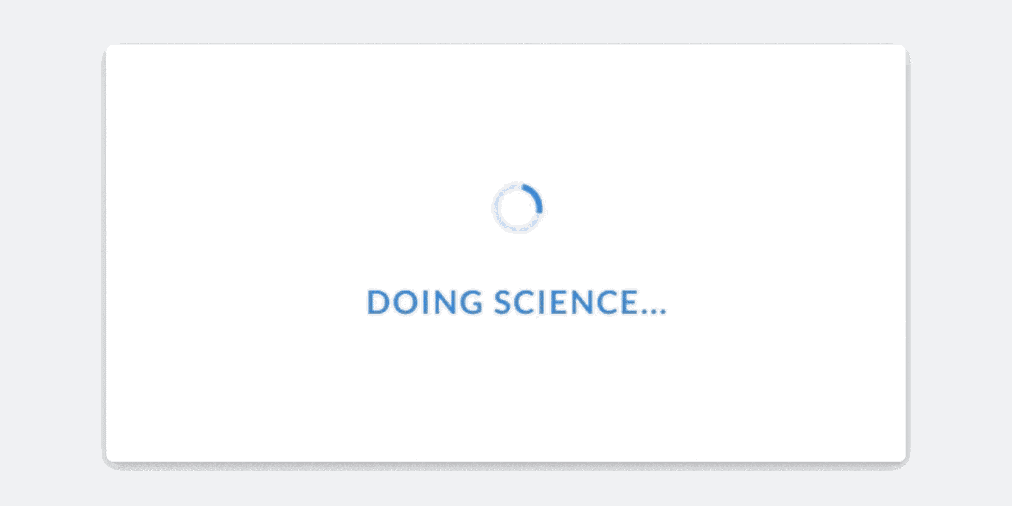 Sometimes queries are simply slow and heavy, but we want to help you make them faster (and help you save some big data warehouse bucks!).
Pro and Enterprise plans now include tools to keep your Metabase lightweight and nimble. Now Admins in these plans can define precise result caching durations for individual questions and dashboards, and even at the database level. (which is great if you only load data into your warehouse once a day, for example.)
And to figure out which queries need better caching (or rewriting), we built tools into the Audit experience to help you find slow and frequently used questions (you can also see if the cache for certain questions is being overridden too frequently).
JOINs with multiple columns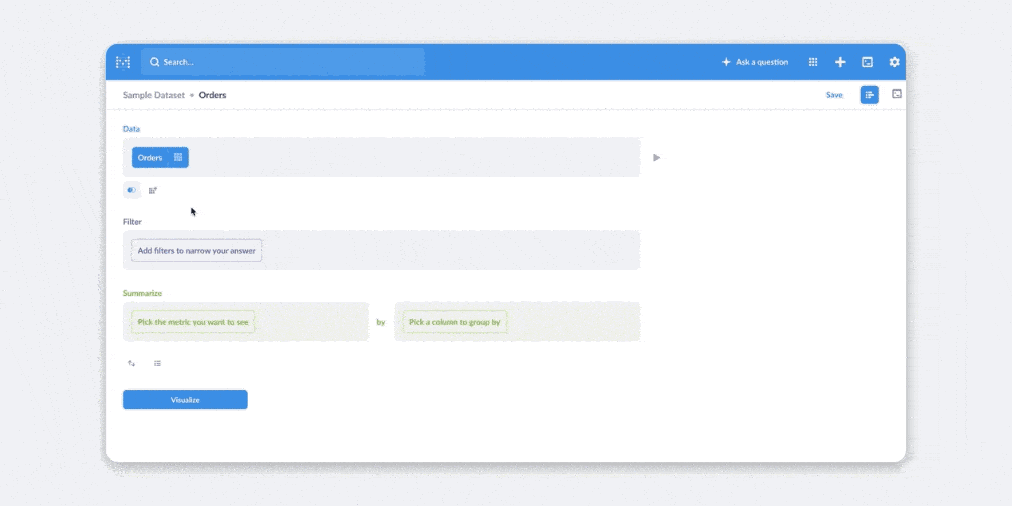 You can now create more advanced queries while sticking to the Custom Question editor by using multiple column conditions for your JOINs. And now you can define the granularity of the JOIN criteria for dates.
Lots of database driver improvements
We have a new, JDBC-based Presto driver, which supports Kerberos as an authentication scheme. If you're using Presto today, you'll see a message guiding you to upgrade.
We also included a new, GCP-client-based BigQuery driver, which is faster and more stable than our previous one and allows for custom columns, pivot tables and more.
More advanced authentications mechanisms are now supported for Oracle.
And other improvements
If you have a chart with many series (e.g. monthly sales over time for every country in Europe), you'll now get a cleaner, scrollable legend, properly displaying the names for each series. And you can still hover them to highlight and click on them to drill down.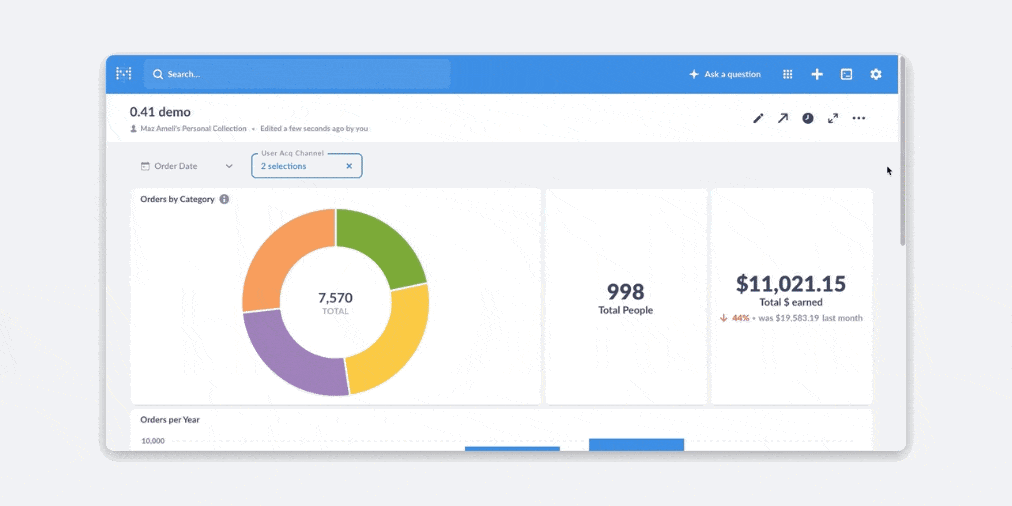 Continuing on the improvements to dashboards in 41, when using filters, they stick to the top. So now when you scroll down, you can still see—and change—filter parameters without having to scroll up and down.
Other news at Metabase
As you might have noticed, we just launched a new premium Metabase plan called Pro to bring our advanced functionality (including all of the new stuff we mentioned here) to more folks. Just grab a credit card, choose between self-hosted our Cloud deployment and start your trial. You can see all our plans and their features here.
We've decided to sunset the Mac App Store version of Metabase. We created it to make it easy for people to try Metabase without having to install a Java Runtime, but since then we've launched our Cloud offering, which is even easier to get started. Since maintaining the Mac version demands resources, this (0.41) is the last release we'll publish, and will remove it from the app store after that.
Looking for more? Want to help out?
As usual, we've made a whole host of additional improvements to Metabase. It's a pretty lengthy list, so be sure to take a look at the release notes to see everything we've added.
Wanna know what's coming up in later releases of Metabase? Check out our public product roadmap.
We work hard to make every version the best version of Metabase yet. And part of that is hearing what folks think of this release. You can help us be even better by sharing your thoughts in this release survey. Or you can join us on the forum.
Cheers,
The Metabase Team
Share this release
Get started with Metabase
Free, no-commitment trial
Easy for everyone—no SQL required
Up and running in 5 minutes