Nov 28, 2017 in Releases
‧
2 min read
Metabase 0.27
Maz Ameli
‧ Nov 28, 2017 in jekyll update
‧ 2 min read
Just in time for the holidays, Metabase 0.27 is here with one much-requested feature, an upgrade to X-rays, and more. At Metabase, nothing puts us in a festive mood quite like conditional alerts and automated machine-learning-based time series insights.
Alerts!
Alerts are here at last. Now you can set up an alert on any saved question and be notified via email or Slack whenever it reaches a goal or has results for you to see.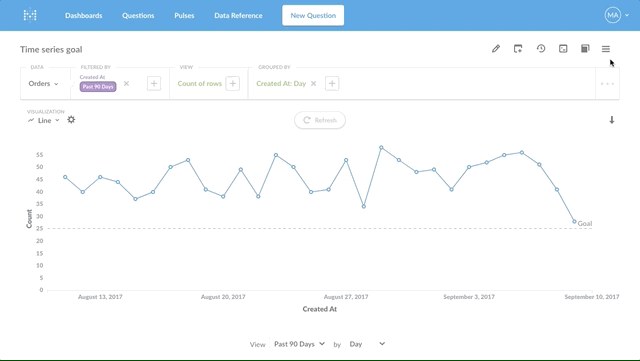 It's a really common thing to keep tabs on a metric over time, and to want to be alerted when it goes above or below a specific value, or goal. To set up a goal-based alert in Metabase, all you need to do is create a time series question and add a goal line to it in the visualization settings, then click on the "Get alerts about this" option in the new top-right menu. You can also get goal alerts when you create a progress bar question.
Another situation where you might want to get alerts is when you have a question that returns rows in a table that match a certain condition. It might not usually return results, but you want to know when it does. As an example, maybe you have a question that returns all the bad reviews users have given your product in the past 24 hours. Hopefully that question doesn't normally have any results, but you can set up an alert on it and tell Metabase to let you know if there are any bad reviews for you to look at.
If you'd like to learn more about setting up alerts, boy do we have the relevant doc page for you.
X-ray insights
Metabase hasn't achieved self-awareness quite yet, but it has gotten smarter recently. When you x-ray a time series question or a numeric field, Metabase will now show you relevant insights about your data, provided there's something insightful to say.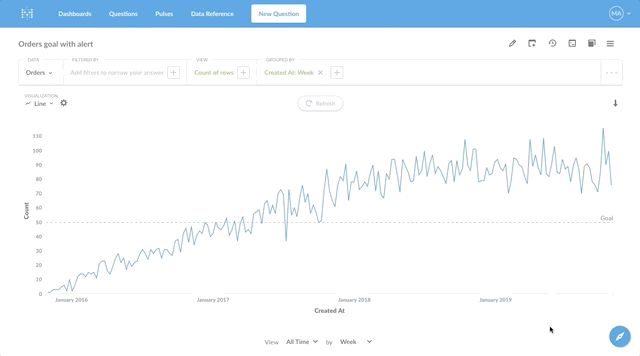 X-rays and insights are still somewhat experimental, so we'd love your feedback on how we can continue to make them better.
Charting improvements
We've also made a few improvements to charting, like the ability to change the label of a series on a chart, and fixing overlapping x-axis labels.
Fixes, improvements, and more
To see the other things we fixed and updated, you can check out the full release notes.
Upgrading to the latest version
You can download the new version of Metabase at metabase.com/start. To upgrade, see the instructions for your platform. As always, we strongly recommend backing up your application database before upgrading.
Metabase 0.28 will be here before you know it, so we'll see you then. And as always, thanks for using Metabase!
Share this release
Get started with Metabase
Free, no-commitment trial
Easy for everyone—no SQL required
Up and running in 5 minutes