Sep 19, 2023 in Releases
‧
7 min read
Metabase 47
The Metabase Team
‧ Sep 19, 2023 in News
‧ 7 min read
Metabase 47 has got something in it for everyone—CSV uploads, PDF downloads, searching, serialization, and more.
Tired of managing your instance? Upgrade to a hosted plan and leave it to us.
Dashboards got revamped
If you spend any time at all in Metabase, a good chunk of that time will be spent playing around with dashboards, so we've made a LOT of improvements, big and small, to make that experience better all around.
Our Head of Product Design, Maz Ameli, made a video walkthrough of how to build dashboards like a pro using some of these new features (alongside some old favorites).
Upload and analyze data from CSV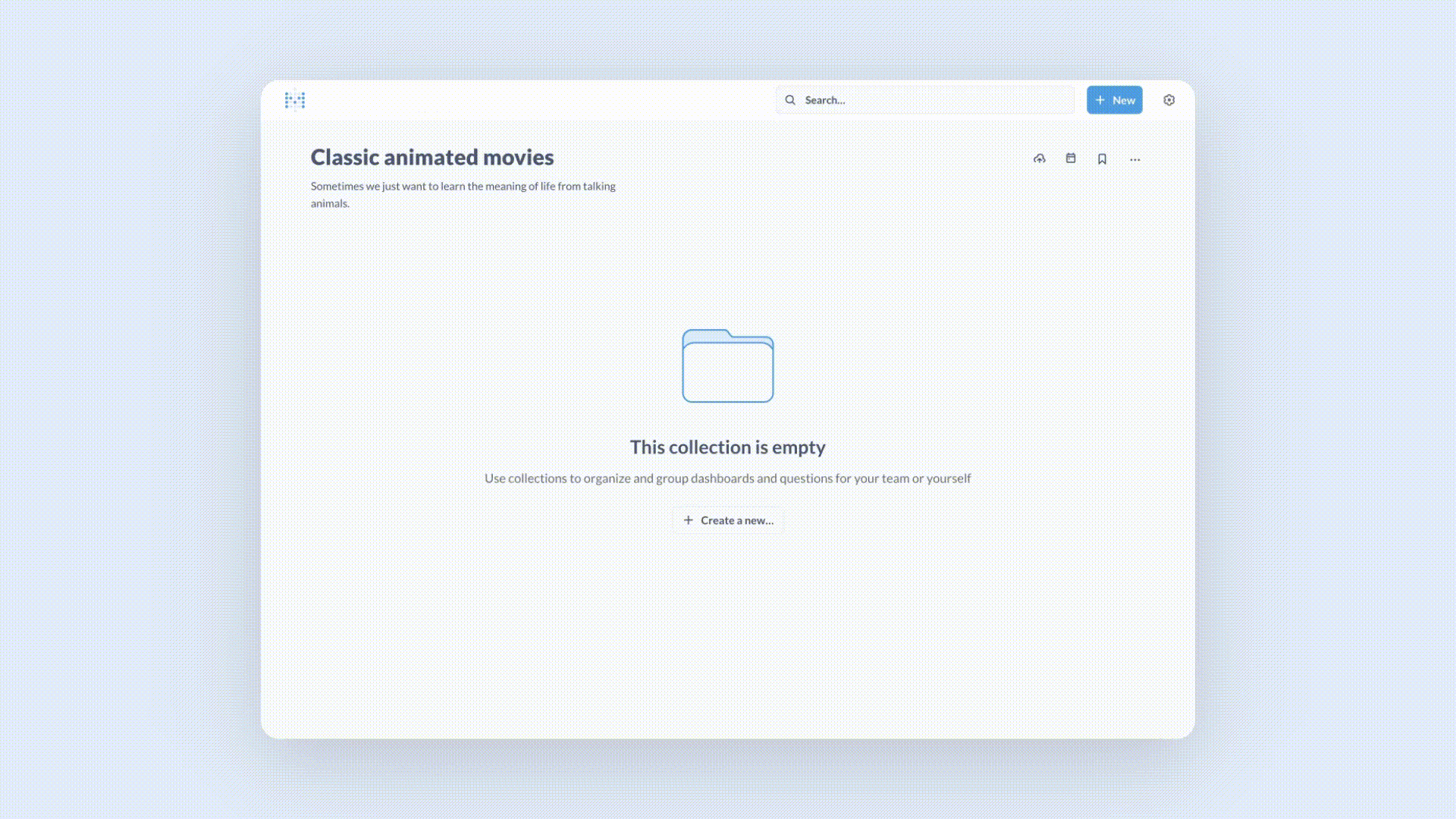 This long-awaited and heavily requested feature is finally here! CSV upload allows you to bring together more data sources, faster, and apply the full power of Metabase to your spreadsheets. Anyone can start analyzing data without it having to be ETL'd in, and join with existing data from a database. CSV uploads are supported for Postgres and MySQL right now. CSVs are uploaded straight into collections, becoming models, and admins can choose the schema where they go.
Find out more about CSV uploads and how to use them here.
Powered-up Pro features
Our Pro and Enterprise plans ship with advanced buttons and levers to make lighter work of managing your Metabase, people, and permissions.
We overhauled serialization to improve exporting and importing your Metabase data
We've made some serious upgrades to serialization to get beyond just instance portability to enable git-based workflows. Now you can go from development to git with export, and from git to production with import.
Headline changes that take serialization from 1.0 to 2.0 include: more selective serialization, loading internal references, deduplication, better performance, and more.
This update comes with a few changes, including new commands and differences in the export file structure. Learn more in our docs.
Row-level SQL permissions with connection impersonation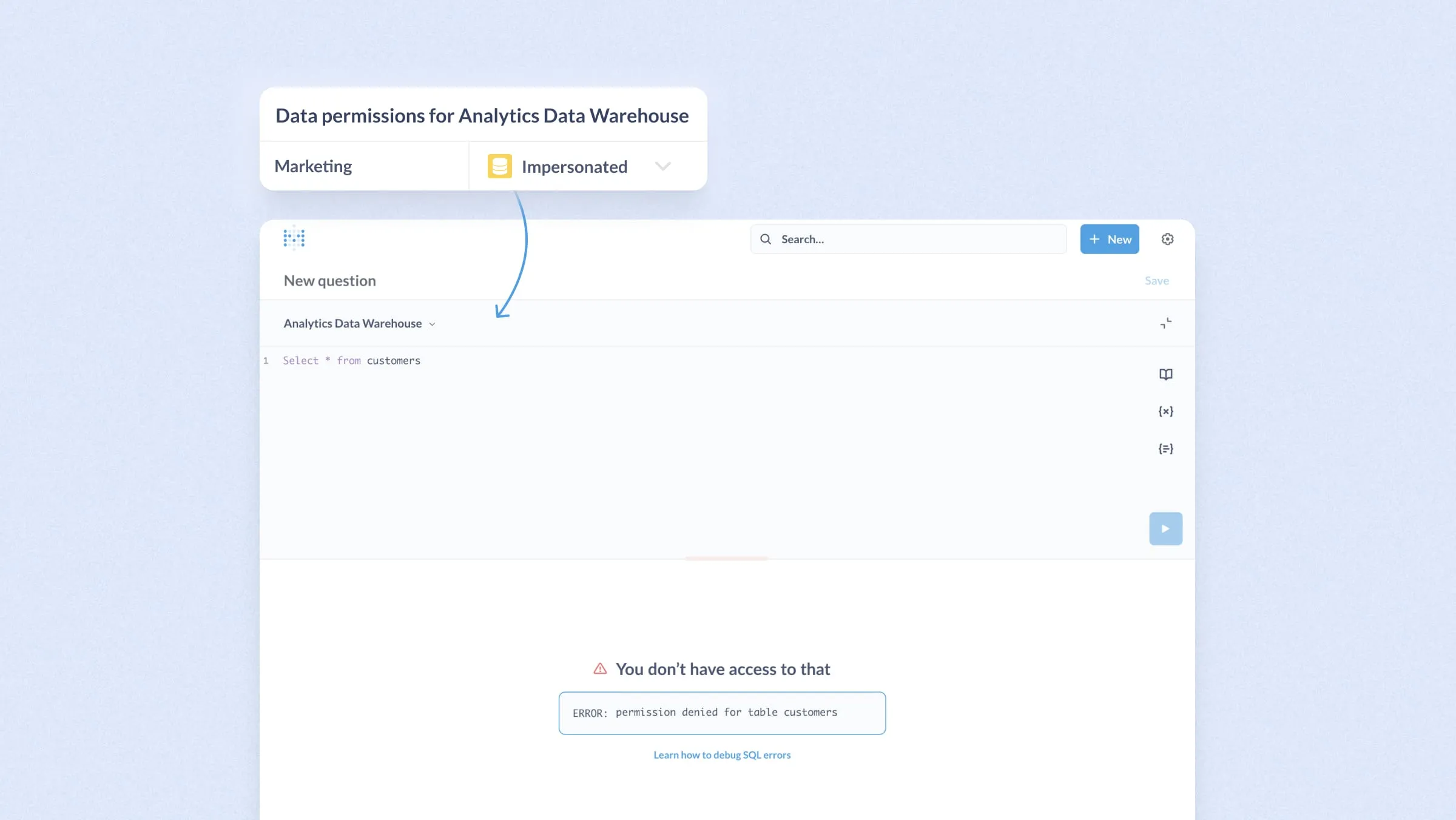 You can now configure database-side roles (think USE ROLE or SET ROLE) when querying. This means you can give a group access to the native/SQL editor, while restricting the group's access to data based on a specific database role, centralizing permissions on the DB. This is currently available with Postgres and Snowflake to start.
Fresh new icons New look, who 'dis? You probably don't need this one pointed out, but we couldn't not give it a little shout out. Icons got prettier, but also clearer and more consistent.
Other things that got better
FYI / Breaking changes
Take a tour of 47 with us
Join our product team on October 4 for a live walkthrough of these new features. RSVP for the webinar here to make sure you don't miss it.
Or if you want to get into the nitty-gritty, check out our release notes to see everything we've been up to:
Big thanks to everyone who contributed!
Thanks to all those who submitted bug reports, feature suggestions, translations, and pull requests. Metabase gets better and better thanks to your efforts.
Hope you enjoy the release. To see what other features we have in the works, check out our product roadmap.
Cheers,
The Metabase Team
Share this release
Get started with Metabase
Free, no-commitment trial
Easy for everyone—no SQL required
Up and running in 5 minutes